By
hungry runner
on June 23rd, 2010 . Filed under:
Blogs
,
Cupcake Ideas
,
Recipes
.
Food52 was recently ranked as one of the top 50 mom bloggers by Babble.  Since they were awarded #2 best recipes and #4 best photography, in addition to being co-founded by a New York Times food editor, I knew I had to check out the website.  The site is impressive with a blog, videos, recipes, and even a shop.  Of course I had to check to see what cupcake recipes they might have come up with and I was intrigued by the Grand Gold Cupcakes. The description you will think these are "the best cupcakes ever," even before you know the contain alcohol.   I think this recipe would be great to make this summer, especially for the 21+ crowd.  Adults like cupcakes too, especially those containing gold tequila and grand marnier! Below is the recipe but be sure to checkout their site for other recipes!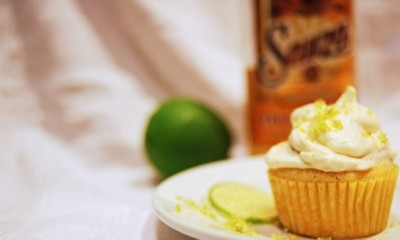 The Cupcake:
3/4 cups Unsalted Butter (12 Tblsp)
1 1/2 cup Powdered Sugar
3 teaspoons finely grated Orange Peel
2 large Eggs
1 1/4 cup self-rising Flour, divided
1/4 cup Buttermilk
3 tablespoons Gold Tequila
2 tablespoons Grand Marnier
Preheat oven to 350 degrees F.
Insert paper liners in 12 muffin cups.
In large bowl, using an electric mixer, beat butter, 1 1/2 cups sugar, and 3 teaspoons orange zest until blended, then beat until fluffy and pale yellow.
Add eggs one at a time, beating until well blended after each.
Beat in half of the flour.
Beat in half of the flour, then add buttermilk, tequila and Grand Marnier. I was out of Grand Marnier, so I substituted 1 Tbsp of whiskey and 1 Tbsp of Vanilla. Worked great! Beat to blend. Then beat in remaining flour.
Divide batter equally among the 12 muffin cups and bake for about 20 minutes, or until a cake tester inserted comes out clean. Let cupcakes cool while preparing the Lime Zest Icing.
Lime Zest Icing:
3/4 cups powdered Sugar
1 package Cream Cheese (8 oz)
1 tablespoon fresh Lime Juice
1 teaspoon finely grated Lime Peel
1 teaspoon Vanilla Extract
1/4 cup Whipping Cream
In food processor, blend sugar, cream cheese, lime juice, lime zest, and vanilla; then pulse. Blend in enough shipping cream to form thick but spreadable icing.
Ice cupcakes and garnish with orange zest, lime zest, and/or turbinado sugar.