By
hungry runner
on June 22nd, 2010 . Filed under:
Recipes
,
Reviews
.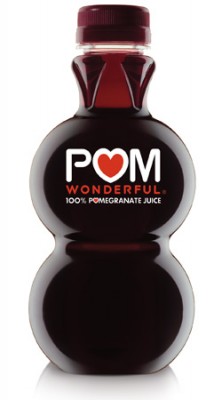 POM Wonderful recently sent us here at ATC some of their pomegranate juice to test to see how it works as an ingredient in baking cupcakes.  After looking around online to see what types of pomegranate cupcakes are out there (and one unsuccessful attempt* at replicating an online recipe) I decided to use an ingredient that compliments pomegranate juice.  I decided to bake banana cupcakes with pomegranate cream cheese frosting, topped with cocoa sprinkles.  I altered the banana butterscotch cupcakes from Cupcakes! by Elinor Klivans and cut down the POM cream cheese frosting recipe from the POM website. The end result was a unique and delicous cupcake, recipes below.
A few facts about POM Wonderful, in case you haven't tried it.  POM Wonderful is all-natural and contains no added sugars, preservatives, colors or cheap filler juices.  Which leads me to the one issue I had with the frosting, the color.  The pomegranate juice is a very dark color red but when added to cream cheese, butter, and powdered sugar, it becomes a pale, slightly unattractive, shade of pink.  I know some people avoid food coloring but I think if I was to make the POM cream cheese frosting again I would add a few drops of red food coloring to help with brighten the color.
Pomegranates are also considered to be an antioxidant and POM contains more potent antioxidants than red wine grape juice, blueberry juice, cranberry juice, and green tea.  When paired with the banana cupcake you can consider these cupcakes almost healthy with bananas, pomegranates, cream cheese which has dairy, eggs for protein, it's all about how you present them!  Also POM comes in additional flavors such as POM blueberry, mango, kiwi, cherry, and nectarine so you can create your own variations!
*I also mentioned an unsuccessful cupcake attempt.  I found a very basic pomegranate cake recipe that I followed and ended up with spongy cupcakes that did not rise and were a weird color.  I think the recipe failed because my cake flour is old and I tried to cheat and not sift the cake flour as the recipe instructed.  The flavor with the cupcakes was good, I liked the subtle pomegranate flavor, it was just the texture that was off.

POM CREAM CHEESE FROSTING
3/4 cup POM Wonderful 100% Pomegranate Juice

2 oz. soft unsalted butter

4 oz. cream cheese, at room temperature

7 oz. powdered sugar
Directions:
Reduce the pomegranate juice, over low heat, down to 1 fl. oz., Allow to cool, place butter into electric mixer bowl with paddle attachment and cream on medium-high speed for 1 minute, add the cream cheese and continue to mix for 2 more minutes, turn the speed down to low and slowly add in the powdered sugar and the pomegranate juice reduction, mix until the sugar is fully combined, remove icing from the mixer and place into a piping bag with a round or star tip. ** For  me the frosting was too soft to use a star tip.
Banana Cupcakes Adapted from Cupcakes! by Elinor Klivans
1 1/4 cups all-purpose flour

1/2 tsp baking powder

1/2 tsp baking soda

1/4 tsp salt

6 tbsp unsalted butter (3/4 stick) at room temperature

1 cup sugar

2 medium bananas, mashed

2 large eggs

1/2 tsp vanilla

1/4 cup sour cream
Directions:
Position rack in middle of oven.  Preheat oven to 350 degrees fahrenheit.  Line 12 muffin tin cups with paper cupcake liners.

Sift the flour, baking powered, baking soda, and salt into a medium bowl and set aside.  In a large bowl, using an electric mixer on medium speed, beat the butter and sugar until blended and creamy, about 2 minutes.  Stop the mixer and scrape the sides of the bowl as needed during mixing.  Add the banana, mixing until blended into the mixture.  Add the eggs one at a time, mixing until each is blended.  Add the vanilla and beat for 1 minute.  ON low speed, add the flour mixture, mixing just to incorporate it.  Mix in the sour cream.  Mix in the remaining flour mixture until it is incorporated and the batter looks smooth.

Fill each paper liner with a scant 1/3 cup of batter, to about 1/4 inch below the top of the liner.  Bake until the tops feel firm and a toothpick inserted in the center comes out clean, about 25 minutes***.  Cool the cupcakes for 10 minutes in the pan on a wire rack. ***Mine were golden brown after 25 minutes, due to oven variations you may want to check before the timer goes off.
POM added unique flavors to the cupcake creation. The health benefits from POM make it a great cupcake sweetener.