By
applecupcake
on June 13th, 2010 . Filed under:
Cupcake Ideas
.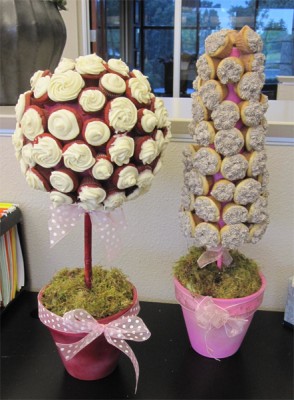 Some of the things that bakers create are amazing!  Quite often I can find myself a little put off by the amazing work that the magazines and books display.  How is a humble baker like me supposed to create that?
Noelle however showed me that it is possible!  As her company's 'unofficial' official baker, she was given the challenge of creating something for her mother who works in the same office.  But this was no ordinary birthday, it was her mother's 50th,so she wanted to create something ultra special
Inspiration struck in the form of the May 2010 Food Network Magazine, and she took the idea and made it her own with these amazing topiaries!  The magazine used a 6 inch ball, but Noelle used upscaled to an 8 inch ball and covered it with red velvet cream cheese cupcakes along with a large cone shaped topiary base which she covered with Oreo cupcakes.  The combined topiaries had just under 200 cupcakes in total!
Apparently Noelle advises that the construction is not for the faint of heart, but that the end result was well worth it!