By
hungry runner
on June 9th, 2010 . Filed under:
Blogs
,
Cupcake Ideas
,
Decorating
,
Recipes
.
Remember Easter when we shared with you Nested Easter Egg Cupcakes by Bakers Royal?  Well Bakers Royale has impressed me once again with her Creme Brulee cupcakes.  Having found most creme brulee cupcake recipes to call for filling the cupcake hole with swiss or butter cream frosting she instead wanted real creme brulee.  I think she has captured the true dessert in cupcake format with her recipe below.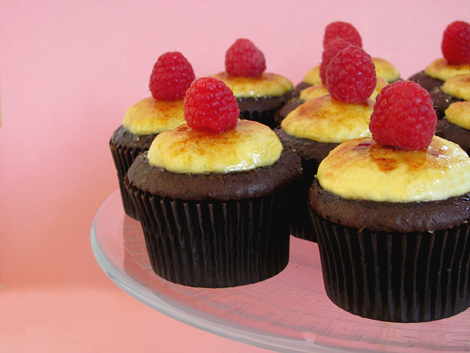 Crème Brulee Cupcakes
Heat oven to 300 degrees and prepare water bath. Place kitchen towel on bottom of a roasting pan or cake pan.  Place one ramekin in the pan to determine the water level. The water needs to be two thirds the height of the ramekin. Bring determined water amount to boil while assembling the custard.
Custard
1  teaspoon vanilla bean paste or 1 ½ teaspoon vanilla extract
2 cups heavy cream, chilled
½ cups sugar
5 large egg yolk (room temperature)
8-10 teaspoons Demera sugar
INSTRUCTIONS:
1. Combine and bring vanilla paste, 1 cup of the cream, granulated sugar, and salt to a boil over medium heat. Stir every now and then to prevent the cream from forming a skin.  Once boiled, remove the pan from heat and let steep for 15 minutess.
2. After the mixture has steeped, stir in the remaining cup cream to cool down the mixture.
3. Whisk the egg yolks together in a large bowl until uniform. While whisking eggs with one hand use your other hand to slowly pour in the cream mixture. Make sure your cream has cooled enough so that your eggs will not curdle. Push final mixture through a fine mesh strainer, discarding any solids. Pour into the ramekins.
4. Place custard filled ramekins into pan.
5. Pour boiling water into pan, being careful not to splash water into ramekins.
6. Bake for approximately 30-35 minutes or until custard either reads 170 degrees and/or until custards gives a gentle wiggle when moved.
7. Transfer baked ramekins to cooling rack. Cool to room temperature for approximately 2 hours.
8. To store, place plastic wrap directly on custard surface to prevent skinning.
Magnolia's Chocolate Cupcakes
Makes 2 dozens
Preheat oven to 350 degrees.  Line two 12 cup muffin pans.
2 cups all-purpose flour
1 teaspoon baking soda
1 cup (2 sticks) unsalted butter, softened
1 cup granulated sugar
1 cup firmly packed light brown sugar
4 large eggs, at room temperature
6 ounces unsweetened chocolate, melted (*see  note)
1 cup buttermilk
1 teaspoon vanilla extract
Note: To melt the chocolate, place in a double boiler over simmering water on low heat for approximately 5–10 minutes. Stir occasionally until completely smooth and no pieces of chocolate remain. Remove from the heat and let cool to lukewarm 5–10 minutes.
INSTRUCTIONS:
1. Preheat oven to 350 degrees.
2. Line two 12-cup muffin tins with cupcake papers. Set aside.
3. In a small bowl, sift together the flour and baking soda. Set aside.
4. In a large bowl, on the medium speed of an electric mixer, cream the butter until smooth. Add the sugars and beat until fluffy, about 3 minutes. Add the eggs, one at a time, beating well after each addition. Add the chocolate, mixing until well incorporated. Add the dry ingredients in three parts, alternating with the buttermilk and vanilla. With each addition, beat until the ingredients are incorporated, but do not overbeat. Using a rubber spatula, scrape down the batter in the bowl to make sure the ingredients are well blended and the batter is smooth. Carefully spoon the batter into the cupcake liners, filling them about three-quarters full. Bake for 20–25 minutes, or until a cake tester inserted in the center of the cupcake comes out clean.
5.Cool the cupcakes in the tins for 15 minutes. Remove from the tins and cool completely on a wire rack before filling with custard.
Assembly
1. Using a paring knife cut a shallow cone from the top of the cupcake.
2. Fill hole with custard.
3  Generously sprinkle  Demera sugar on top of custard.
4. Keep torch six inches from sugar to brulee.