By
cupcakeSerenity
on June 8th, 2010 . Filed under:
Cupcake Ideas
,
Decorating
,
Party Items
,
Tips
.
These are so cool!  Oh my gosh, I just have to try this!  I don't have much of a green thumb, but these "plants," I can handle!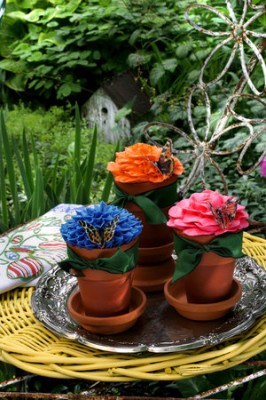 KansasCity.com featured a post recently on these delightful flowerpot cupcakes!
We have Bernard Shondell of Roeland Park to thank for these tasty works of art.  If you'd like to try to create your own, here are his words of advice:
•Place paper cupcake liners in the bottom of clean, preferably new, flowerpots to cover the hole.
•Line pots with parchment paper or foil.
•Fill about 2/3 full with your favorite cake batter.
•Place the pots in an empty cake pan for stability, and bake about 20 minutes at 350 degrees.
•Once cooled, tint your favorite icing and spread on top of the cake to form a smooth dome. With a star or rose tip, pipe "petals" on top.
•An alternative to piping the top is to flatten gum drops with a rolling pin (use granulated sugar so they won't stick); then arrange the flattened candy as "petals" on the top.
•Add green icing leaves or a green bow to complete the look.
•Garnish with an edible wafer paper butterfly, available at Fancy Flours!