By
cupcakeSerenity
on May 29th, 2010 . Filed under:
Tattoos
.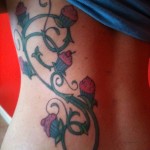 We recently received this fun photograph from an ATC fan.
Here's what she had to say:
Even as an adult I have a major sweet tooth and there are few things I like more than cupcakes! I love to bake and one day I will open my own bakery, where I have always envisioned having cupcakes as our main feature. One day I imagined a room like Willie Wonka where the cupcakes could grow like vines. I have been wanting this tattoo for awhile now so I just went for it! I got it done in Fayetteville, NC by Nathan at Tattoo World. Now I can't wait to go to the beach and show it off!

Thank you for sharing!  It looks fantastic!  Have fun at the beach, and be sure to bring some cupcakes along!