By
jpower
on May 10th, 2010 . Filed under:
Accessories
,
Clothing
,
Events
,
Gifts
,
Photos
.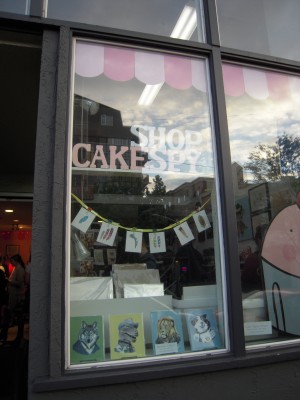 While the news about Cakespy opening her own gallery broke last month, the Cakespy Shop grand opening was only just this last Saturday.  Since I live down the street from Capitol Hill's newest cupcake art space, I go to stop by and join the party.
Cakespy Shop was packed by a rotating crowd of well-wishers and art buyers. I expected there to be a good crowd (we do love our cupcakes and cute art in this town), but this was a really good showing even taking that into account.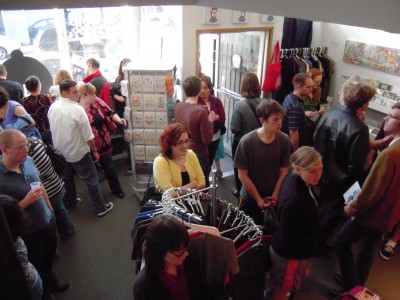 I admit, the Cakespy appeal was probably helped just a tiny bit by the free Trophy Cupcakes and complimentary performance by Mr. Cakespy's band, Exohxo. The cupcakes were delicious and adorably appointed with images from Cakespy's "Scenes from Capitol Hill" series and Exohexoh's charming melodies and singing violins made a lovely accompaniment.