By
hungry runner
on May 7th, 2010 . Filed under:
Crafts
,
Decorating
.
Sometimes it is hard to find a cupcake wrapper that suits your needs.  Here is a template so you can make your own cupcake wrappers, that way they will be exactly what you imagined. Below are the directions but don't forget one essential, the template!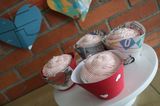 Difficulty: Easy
Time Required: 20 minutes
Here's How:
Print the cupcake wrapper template at its full size (preferably onto a sturdy paper like cardstock, but normal printing paper will work OK). Cut it out along the solid lines. The dashed lines indicate where you will need to cut a slit on your finished wrapper. The slit is optional. If you prefer, you can use Scotch tape to hold the wrapper together.
Trace the template on the wrong side of the paper you'd like to use for the cupcake wrappers. Trace as many as you will need and then cut them out.
Wrap the cupcake wrapper around a baked, frosted cupcake and attach its lose ends either by interlocking the tabs where you've cut the slits or affixing a small piece of Scotch tape.
Display the cupcakes on a platter or cake stand.
Tips:
Only your imagination can limit the types of paper you could use for cupcake wrappers. Throwing a superhero-themed birthday party? Use the pages of old comic books. Making the cupcakes for a Christmas party? Use last year's wrapping paper. For a birthday party with any theme, how about having the birthday kid decorate the wrappers herself? For a graduation party, ask family and friends to write personal messages or advice to the graduate on the cupcake wrappers.
What You Need:
Free cupcake wrapper template
Scissors
Pencil or pen
Optional: Scotch tape