By
hungry runner
on April 6th, 2010 . Filed under:
Cupcake Ideas
,
Recipes
.
I saw these and immediately thought of my brother who has always loved churros!  These Churros Cupcakes filled with Dulce De Leche are definitely for those with a really big sweet tooth! These cupcakes consiste of cinnamon brown sugar cupcakes, dulce de leche filling, vanilla frosting, and cinnamon-sugar crunchies!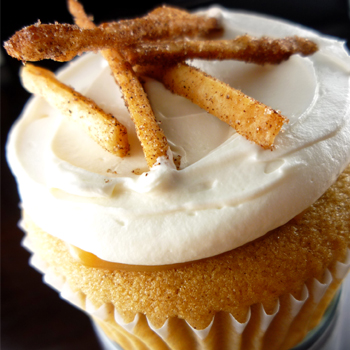 Cinnamon Brown Sugar Cupcakes
3 cups cake flour, sifted then measured
2-1/2 teaspoons baking powder
1 teaspoon ground cinnamon
1/2 teaspoon salt
11 Tablespoons unsalted butter, softened
1-1/2 cups light brown sugar packed
2 large eggs, room temperature
2 teaspoons pure vanilla extract
1-1/4 cups whole milk, room temperature
Dulce de Leche, homemade or store-bought, for filling
1. Preheat oven to 350°F (175°C). Line muffin pans with baking cups.
2. Sift together flour, baking powder and salt; set aside.
3. In large bowl, cream butter, cinnamon, and sugar with electric mixer until light and fluffy. Add eggs and vanilla; mixing well after each addition.
4. Add flour mixture in 3 additions alternately with milk in 2 additions, beating batter just to combine between additions. Do not overmix. Continue beating one minute. Divide batter evenly among lined cups, filling each about two-thirds full.
5. Bake 20 to 25 minutes or until cake tester or wooden skewer inserted into center of cupcake comes out clean. Cool 10 minutes. Turn out onto cooling rack; cool completely. Cupcakes will keep, covered, for up to 3 days at room temperature.
Vanilla Frosting
3 large fresh egg whites
1/4 cup fine white granulated sugar
Pinch of salt
2 sticks unsalted butter, cut into tablespoons, softened
3 teaspoons pure vanilla extract
1. In a heatproof bowl, add the egg whites, sugar and salt, set over a pan of simmering water. Mix by hand constantly with a whisk, until the sugar has dissolved completely and an instant thermometer register 160°F.
2. Remove the bowl from heat, and beat with an eletric mixer fitted with the whisk attachment on high speed, until fluffy and glossy and the bottom of the bowl feel cool to the touch.
3. Switch to the paddle attachment. With the mixer on medium-high speed, add the butter two tablespoons at a time; mixing well after each addition. Once all the butter has been added. Add the vanilla, beat on high until smooth. If mixture looks curdled at any point during the beating process, continue beating until smooth; the curdling will disappear.
4. Transfer the buttercream to an airtight container and keep at room temperature if using the same day or refrigerate up to 3 days. Before using, bring to room temperature and beat with an electric mixer fitted with the paddle attachment on low speed until smooth.
To assemble, use a small melon baller to scoop out or a small knife to cut the center of each cupcake from the top. Fill with dulche de leche. Fill a pastry bag fitted with a large plain tip with frosting. Pipe frosting onto each cupcake. Garnish with cinnamon-sugar crunchies. Frosted and filled cupcakes are best eaten the day the same day.
Cinnamon-Sugar Crunchies
Vegetable oil, for frying
One (10-inch) flour tortilla
1. Warm the tortilla. Cut the tortilla in strips, about 1/4-inch thick to 1-inches long. Separate the strips and fry in hot oil until golden brown.
2. Place fried tortilla on paper towels to drain. Coat with Sugar-Cinnamon mixture (mix a 1/4 cup granulated sugar and 1/4 teaspoon ground cinnamon).