By
hungry runner
on April 5th, 2010 . Filed under:
Cupcake Ideas
,
Kids
,
Recipes
.
I came across this Compost Cupcake recipe on Cupcake Project and love the idea! These seem like the perfect snack for parents or even babysitters to make with or for children.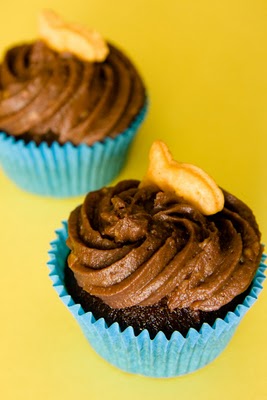 Compost Cupcake Recipe from Cupcake Project:
To make compost cupcakes, mix your favorite salty and sweet snacks into your favorite cupcake recipe. There is no reason that you have to use the recipe below. I was in the mood for molasses, so I mixed my snacks into a molasses-based cake. The molasses flavor was a bit overpowering and next time, I might try making compost cupcakes using a more basic white cake.
Yield: 12 Cupcakes
5 T unsalted butter, softened
1/2 C white sugar
1/2 C unsulfured molasses
2 eggs
1 1/4 C all-purpose flour
1/4 t salt
1 t baking soda
1/2 C hot milk
1/2 C – 1 C crushed salty snacks (I used goldfish crackers and pretzels)
1/2 C – 1 C sweet snacks (I used cacao nibs and Skor chips)
Cream butter and sugar.
Add the molasses and eggs.
Add the flour and stir until just combined.
Dissolve the baking soda in the hot milk.
Stir in the hot milk mixture.
Stir in salty and sweet snacks until combined.
Divide batter evenly between 12 cupcake liners.
Bake at 350 degrees F for 20 minutes or until slightly springy to the touch.
Chocolate Goldfish Cream Cheese Frosting
One of my favorite parts of my compost cupcakes was the chocolate cream cheese frosting with crushed goldfish crackers mixed in. The crackers added just the right about of salt to cut the sweet of the frosting. I highly recommend this frosting for any cupcake. Follow the recipe for my favorite chocolate frosting and then mix in a half cup of crushed goldfish crackers (or other salty treat) at the end.