By
hungry runner
on March 10th, 2010 . Filed under:
Cupcake Ideas
,
Recipes
.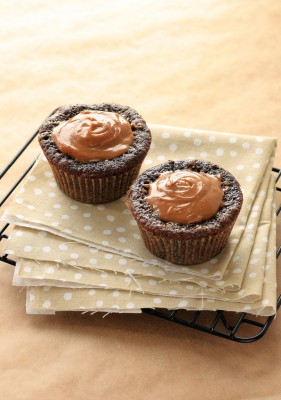 In my opinion, chocolate and caramel make a great pair.  That is why I think these Chocolate Dulce de Leche Cupcakes by 6 Bittersweets sound delicious.
Chocolate Dulce de Leche Cupcakes
1 cup minus 2 tablespoons all-purpose flour
1 cup white sugar
6 tablespoons unsweetened cocoa powder
1 teaspoons baking soda
1/2 teaspoon baking powder
1/2 teaspoon salt
1 large egg, room temperature
1/2 teaspoon instant coffee powder dissolved in 1/2 cup hot water (or 1/2 cup black coffee)
1/2 tablespoon apple cider vinegar plus milk to equal 1/2 cup
1/4 cup vegetable oil
1 teaspoons pure vanilla extract
1 – 1 1/2 cups dulce de leche (I make mine in the pressure cooker)
milk or cream, if needed to thin out dulce de leche
Preheat the oven to 350 degrees F and line standard muffin pans with paper liners.
In large bowl, stir together the sugar, flour, cocoa, baking soda, baking powder, and salt. Add the egg, milk, coffee (or reconstituted coffee mixture), oil, and vanilla extract. Beat by hand or with an electric mixer on medium speed until well combined.
Pour the batter, which will be thin, to fill the paper liners about 2/3 full. Tap the pan firmly against the counter one time to remove any air bubbles. Bake for 20 to 25 minutes or just until a toothpick inserted into the middle of a cupcake comes out clean. Let cupcakes cool in the pan for 5 minutes, then remove them to a wire rack and let them cool completely there.
While the cupcakes are cooling, prepare the dulce de leche topping by stirring to ensure smoothness and adding milk or cream, 1 tablespoon at a time, if needed to thin the dulce de leche to the desired spreading consistency.
Once cupcakes are completely cool, spread the topping on with a spoon or knife, ending by smoothing the stop in a spiral pattern if you like the look.