By
stayhomecupcake
on February 22nd, 2010 . Filed under:
Cupcake Ideas
.
Every girl needs a little bling in their life, right? Well, the designers at Dazzle and Chunk are here to help!  They customize it your favorite items to make personalized charm bracelets.  First you choose your bracelet, then add charms and spacers.
So what  does Dazzle and Chunk have to do with cupcakes?  Well, check out a small sample of their beautiful cupcake jewelry:
 Dazzle and Chunk's  jewelry is well-made and so perfect for all our cupcake lovers.  I own several pieces of their jewelry and I love them all!  They are sweet, yet sophisticated.  This week Dazzle and Chunk are giving away this pair of cupcake earrings.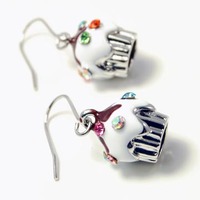 Just go to Dazzle and Chunk's  shop and look at all their jewelry.  Then come back to ATC and click on the comment area below.  Please tell us what cupcake item is your favorite AND what kind of charm you think they should create next.  This contest ends on Sunday, February 27th. 
Special thanks to Dazzle and Chunk for sponsoring this week's giveaway!