By
jpower
on February 10th, 2010 . Filed under:
Cupcake Ideas
,
Decorating
,
Photos
,
Valentines Day
.
Valentine's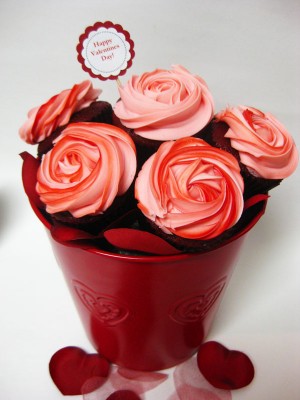 Day gift giving can get complicated. There as so many choices: flowers, cupcakes, adorable stuffed animals, a massage at the spa…mmmm, massage at the spa… So which one should you get your sweetie? Ok, after you make sure to get that massage for your significant other (and one for you, too!), I recommend making your life easier by getting two gifts in one: a cupcake bouquet.
Two cupcakeries with notable bouquet showings are Bettie's Cakes of Saratoga Springs,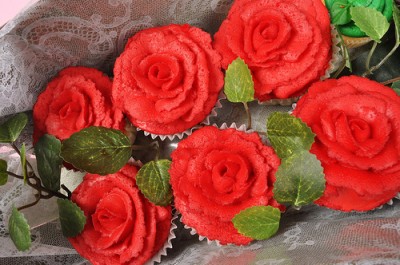 New York and The Blushing Bakery of Charlotte, North Carolina.  The Blushing Bakery chooses to go with five pink (fitting!) frosting cupcakes arranged in a bucket.  Bettie's Cakes does a classic dozen red roses in a long florist's box.  Either way, that's some fancy frosting work. Too good to eat? Never!