By
HeatherLynn
on February 7th, 2010 . Filed under:
Bakeries
,
Reviews
.
I left the lovely Island of Martha's Vineyard this weekend and went on an adventure to New Hampshire to visit my family and friends.
There is a little Cupcake Shop a few miles away from where the Ferry unloads, Cupcapes of Falmouth. I've driven by many times and never stopped and this time I did.
I walked in and immediately fell in love the the place. I wish I had taken more pictures but I didn't get the chance.
They had a lovely display case of cupcakes right when you walk in. They also had cute tables set up, cupcake art on the wall, along with funny T-shirts to boot! There was also the cutest cupcake ornaments hanging on the wall.
I chose the Chocolate Raspberry Cupcake ! I couldn't resist the looks of it. My favorite thing about the look of the cupcakes was the the liner that they were put it. So cute, adds so much character. And it was even put in the CUTEST cupcake box. And the lady who helped me was very nice and inviting as well. They also use all organic ingredients!
Anyone who lives in the area should definitely try and make a trip to indulge in these cupcakes! Very much worth it.
Being there gave me lots of inspiration for my own cupcake adventures! It also made the 3 hours drive back to New Hampshire much more enjoyable.
I tried to wait aslong as I could to eat the cupcake because I wanted to get proper pictures of the Cupcake and the box, that didnt last long. The delicious smell of the Raspberry and Chocolate just over took my car. And I am glad I didn't wait because it was so worth it! The frosting was perfect and the raspberry and chunk of chocolate were da' bomb. It cake was so moist and perfect. I enjoyed this cupcake as much as i did because it was something along the lines that I would make!
Website: CupCapes of Falmouth
Facebook Group: CupCapes of Falmouth
Also become and FAN on Facebook:  CupCapes of Falmouth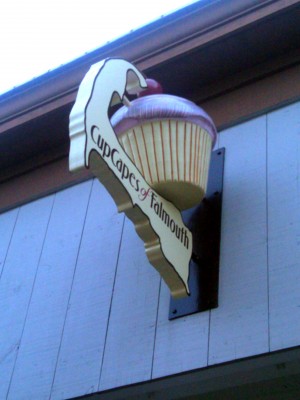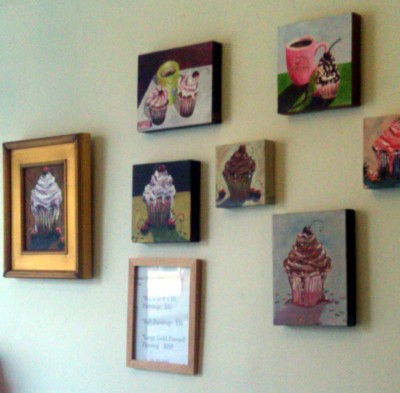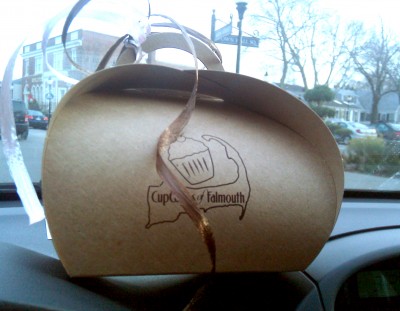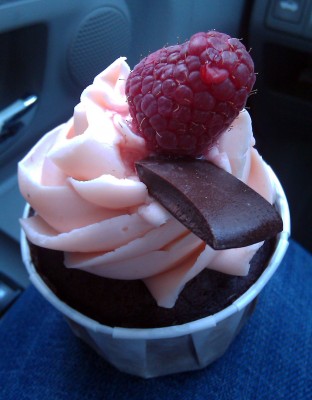 This Image was taken from their Facebook Page …