By
hungry runner
on January 29th, 2010 . Filed under:
Artwork
,
Photos
.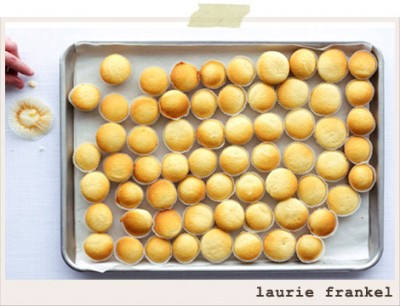 I thought I would share some of the some of the cupcake images I have come across lately.  This photograph of a tray of unfrosted mini cupcakes is captured by Laurie Frankel, whose clients have included companies such as William Sonoma, Nestle, and Martha Stewart Living.  (Image courtesy of lushee)
Second is photography by Susannah Conway who is also a writer.  From her shop the 8×8 inch prints can be ordered for $30.00 each or the postcard set which includes 6 postcards, 2 of each image for $10.00.  Below are additional cupcake photographs by Conway which are from her website.
Finally there is my favorite, Elodie Rambaud.  I was first drawn to the cupcake photographs because they are simple and look delicious.  Then as I saved the images I realized they were unique flavors including Sesame Tahini, Apricot Ginger, and my personal favorite, Pumpkin Maple.  It's my opinion a good photograph of food not only looks good but makes you wish you could eat it. There are more cupcake images as well as other sweet treats so take a look at her site.