By
megha
on January 14th, 2010 . Filed under:
Announcements
,
Bakeries
,
News
.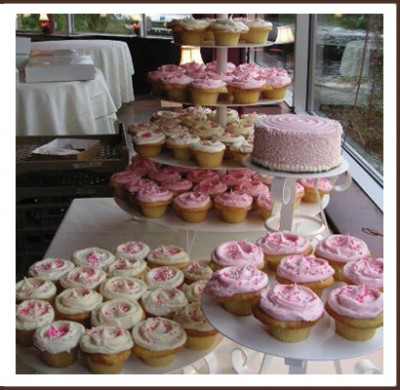 Ready for the cupcake explosion?  Each year in the months of January, May and October, the Taylor's Bakery in Auburn, Alabama creates 20 distinct flavors of cupcakes. The bakery bakes about 50 dozens of cupcakes for the January explosion, but for the other two months, the scale is increased to 120 dozens.
The event in January is celebrated to welcome the students back in the town.  Jan Taylor, who is the founder of the bakery says that through this event, they want to show the people that their bakery is much more than just a bake shop.
She says, "It's about a three day event in the kitchen. This morning, when we put them in the case it was like, 'Whew, we can breathe!'" The thirteen year old event has been a part of the bakery's calendar ever since it opened. Taylor says that even though she loves the classic cupcakes flavors, but she also likes to add innovative tastes to the menu.
—-
Taylor's Bakery and Coffehouse
132 N College St Auburn, AL 36830 –
Map
(334) 502-1112