By
HeatherLynn
on January 14th, 2010 . Filed under:
Cupcake Ideas
,
Recipes
.
Posted by HeatherLynn on January 13th, 2010 . Filed under: Cupcake Ideas . (edit)
WOW … is all I can say when I ate these yummy yummy in my tummy cupcakes. It's the perfect mixture of sweet and tangy.  So here it is … brace yourself, here is how I baked them!
First we start with the cupcake itself …
Chocolate Cupcake Recipe
2 cups sugar
1-3/4 cups all-purpose flour
3/4 cup  Cocoa
1-1/2 teaspoons baking powder
1-1/2 teaspoons baking soda
1 teaspoon salt
2 eggs
1 cup milk
1/2 cup vegetable oil
2 teaspoons vanilla extract
1 cup boiling water
1 can of cherry pie filling
Line muffin tin with cupcake liner, make about 24 cupcakes. Heat oven to 350 degrees. Strain cherry pie filling as best you can. Reserve the liquid from the filling to decorate with and set cherries aside.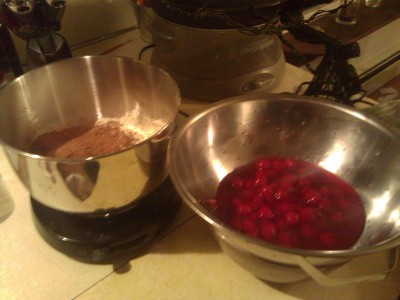 Stir together sugar, flour, cocoa, baking powder, baking soda and salt in large bowl. Add eggs, milk, oil and vanilla; beat on medium speed of mixer 2 minutes. Stir in boiling water. Fold in cherries.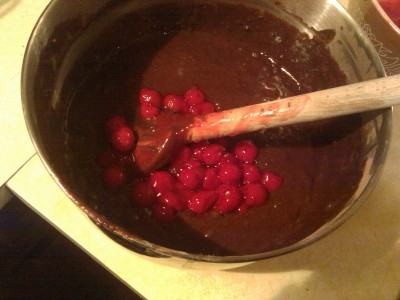 Fill cupcake liners 2/3 full. Bake for about 2o minutes or until a toothpick comes out clean.
Let sit for 5 minutes then put on cooling rack.
And on to the frosting….
Chocolate Cream Cheese Frosting
1 package (8 ounces) cream cheese, at room temperature
8 tablespoons (1 stick) butter, at room temperature
1/2 cup unsweetened cocoa powder
1 teaspoon pure vanilla extract
4 cups confectioners' sugar, sifted
Place the cream cheese and butter in a large mixing bowl. Blend with an electric mixer on low speed until combined, 30 seconds. Stop the machine. Add the cocoa powder, extract, and confectioners' sugar and blend with the mixer on low speed until the ingredients are moistened, 30 seconds. Increase the speed to medium and beat until the frosting is fluffy.
Once cupcakes are cooled completey you can frost them. I used a 1M tip to frost mine. You do it anyway you like.  Once all frosted is all on you can go ahead and add a lil extra with the cherry filling. The technique i used was to put all of the reserved filling in a small disposable decorating bag and cut off a TINY piece of the tip, just enough for  a thin line of filling. And then make lines over the frosting for a cool effect … and it adds a bit of a tang to the frosting!
And Viola!