By
medicinalcupcake
on January 13th, 2010 . Filed under:
Cupcake Ideas
,
Holidays
,
Photos
.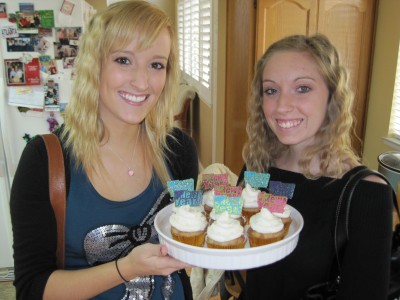 We received these photos and email from ATC Reader Holli…
Hi there, its Holli. I just wanted to share my Vanilla Cinnamon New Years cupcakes with you guys! I did a simple vanilla cake mix ( I was on vacation so I cheated! ) and added a tablespoon of cinnamon to the mix! Poured the batter into gold liners, then sprinkled them with cinnamon sugar before baking! Then for the frosting I used a simple butter+powered sugar recipe then added a little vanilla and cinnamon! I used a plastic bag to pipe the frosting ( I left my piping bags at home =[ ) and decorated them with silver edible glitter and ivory pearlized sugar candy. Topped with a Happy New Years sign! =]

<3Holli

sent two pictures of the cupcakes, and one of me and my cousin who helped me make them! I'm on the left! =] hope your new years was awesome!
Thank you for sharing your cupcakes with us! They look so delicious!