By
harrisonca
on November 22nd, 2009 . Filed under:
Cupcake Ideas
,
Holidays
,
Recipes
.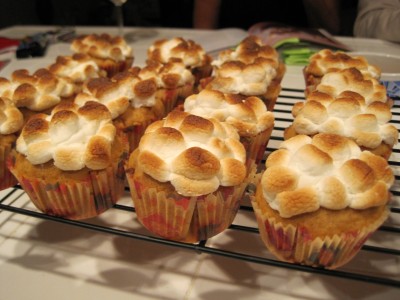 Hi there! Yesterday I made Sweet Potato cupcakes using fresh baked yams, and topped them with mounds of roasted marshmallows! I used the sweet potato cupcake recipe in Martha Stewart's Cupcake book! My grandma ALWAYS makes sweet potatoes with marshmallows on Thanksgiving, so i figured this would be a perfect fall treat for my family and friends! I attached a picture to this email!

-Holli Risvold
These look fantastic.  The texture and browned top of the marshmallow frosting is making my mouth water!  I couldn't find a copy of Martha Stewart's recipe online, so for those of you who want to give this recipe a try may need to buy
Martha's Cupcake Book
.  Though, there are many other recipes online for Sweet Potato Cupcakes!
Happy Baking!