By
hungry runner
on November 16th, 2009 . Filed under:
Decorating
,
Recipes
,
Wedding
.
I realized yesterday I never posted about the wedding cupcakes I made.  Better late then never I guess since the wedding was a few weeks ago now.  In the end I made 10 batches of the cupcake recipe for a total of 6 dozen regular sized, 4 dozen mini and 1 giant cupcake.  I made the frosting recipe twice and had a little left over.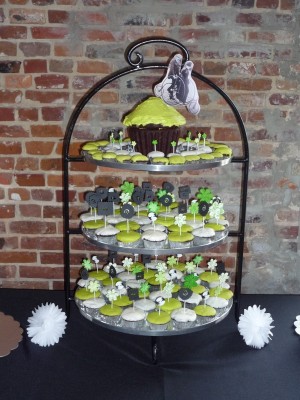 I worked with the bride to create what she was looking for.  Her colors for the wedding were black, white and lime green.  She does not like a lot of frosting so she wanted the amount to be minimal and liked the glossy look of glaze.  From the time she asked me to make the cupcakes she knew she wanted chocolate cupcakes and lime frosting. The bride ended up making the toppers on her own and showing them to me after they had been made.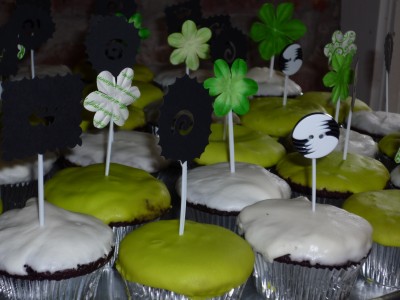 The cupcake recipe I used was from Cooks Illustrated 2009 America Classics issue.  The bad news is that the first thing the recipe tells you is not to double it (really bad news when you have to do it 10 times).  The good news is that every batch came out perfect.   Every cupcake had the perfect cupcake shape and everyone said they were good.  Here's the recipe:
Dark Chocolate Cupcakes
Makes 12 cupcakes
Note: Do not double this recipe.  Cupcakes made from a double batch yield a slightly compromised rise.  It's best to make to separate batches and bake each separately.  Store left over cupcakes (frosted or unfrosted) In the refrigerator, but let them come to room temperature before serving.
8 tablespoons (1 stick) unsalted butter, cut into 4 pieces
2 ounces bittersweet chocolate, chopped
½ cup (1 ½ oz) Dutch-processed cocoa
¾ cup (3 ¾ oz) unbleached all-purpose flour
½ teaspoon baking soda
¾ teaspoon baking powder
2 large eggs
¾ cup (5 ¼ oz) sugar
1 teaspoon vanilla extract
½ teaspoon table salt
½ cup (4oz) sour cream
1. Adjust oven rack to lower-middle position; heat oven to 350 degrees.  Line standard-sized muffin pan (cups have ½ cup capacity) with baking-cup liners.
2. Combine butter, chocolate, and cocoa in medium heatproof bowl.  Set bowl over saucepan containing barely simmering water; heat mixture until butter and chocolate are melted and whisk until smooth and fully combines.  Set aside to cool until just warm to the touch.
3. Whisk flour, baking soda, and baking powder in small bowl to combine.
4. Whisk eggs in second medium bowl to combine, add sugar, vanilla, and salt and whisk until fully incorporated.  Add cooled chocolate mixture and whisk until combines.   Sift about one-third of flour mixture over chocolate mixture and whisk until combined; whisk in sour cream until combined, then sift in remaining flour mixture and whisk batter until it is homogeneous and thick.
5. Divide batter evenly among muffin pan cups.  Bake until skewer inserted into center of cupcakes comes out clean, 18 to 20 minutes.
6. Cool cupcakes in muffin pans on wire rack until cooled enough to handle, about 15 minutes.  Carefully lift each cupcake from muffin pan and set on wire rack,.  Cool to room temperature before icing, about 30 minutes.  (To frost: mound about 2 tablespoons icing on center of each cupcake.  Using small icing spatula or butter knife, spread icing to edge of cupcake, leaving slight mound in center).
For the frosting I used Martha Stewart's recipe for Fluffy Vanilla Frosting. After several sample recipes that used real lime juice, lime extract and bottled lime juice we settled on the bottled.  To flavor the frosting lime I did not use an exact measurement, instead you just have to find the right lime flavor by adding some and sampling the frosting.  I used my roommate for this so that we could establish a lime flavor that had a hint of lime but was not over powering.  Then I left half the frosting uncolored and used lime green food coloring to dye the rest.  I melted the frosting in the microwave for a few seconds then dipped the cooled cupcakes into the frosting.  For my first time baking in bulk I think the end product turned out pretty well and most importantly, the bride was happy!