By
HeatherLynn
on November 10th, 2009 . Filed under:
Cupcake Ideas
,
Recipes
.
This weekend my best friend Heidi and I made some yummy cupcakes! I wasn't too sure about what kind to make, but my mom spoke up and said she wanted Pineapple Coconut Cupcakes and Mom's always get what they want. :-)
Off to the store Heidi and I went to get the ingredients …
Yellow Cake Mix, Crushed Pineapple, Cream Cheese, Flaked Coconut, & Confectioners Sugar
And you can grab these items from your fridge and cupboards at home…
Vegetable Oil, Eggs, Butter, & Vanilla
And GO …
Drain the crushed pineapple and save the juice.
Follow the directions on the box of cake mix … substitute the water for pineapple juice (if you don't have enough juice, just use as much juice as you have and use water for the rest).
Once you have filled the cupcake liners with the batter spoon crushed pineapple into each liner on top of the batter, make sure you start off with a little at a time because you want to be able to get it into all of the cupcakes. If you have more after all are filled disperse to your hearts content into the rest of the liners. ( Psst … you can also save some to throw into the frosting)
Throw em' in the oven and bake according to box.
While those are cooking you can go ahead and start on the frosting. Make sure that the butter is  at room temperature (if you take it  right from the fridge you will have a hard time mixing the frosting).
Mix together one 8 ounce package of cold cream cheese , 5 tablespoons butter and 2 teaspoons of vanilla until light and fluffy. Gradually add 2 cups sifted confectioners sugar.
Once you have mixed this all together gently fold in about 3/4's of a cup of Coconut! (if you want to add crushed pineapple in you can do it at this time)
Once the cupcakes have come out of the oven and have cooled all the way through you can go ahead frost and ENJOY!
My family LOVED these cupcakes! They gave em' and A+!
Here are a few photographs (sorry they aren't the best, they were from a camera phone)!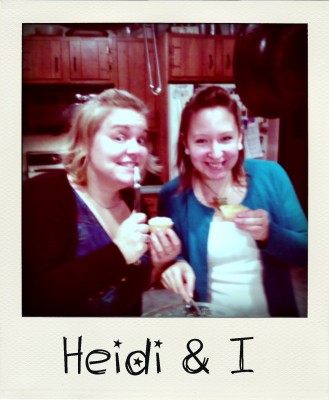 (I am the one on the Left)