By
stayhomecupcake
on November 4th, 2009 . Filed under:
Cupcake Ideas
,
Kitchen
,
Recipes
.
My husband brought me home a nice little present from BJ's Wholesale Club this weekend.  It was this box of Ghirardelli Triple Chocolate Cupcake Mix.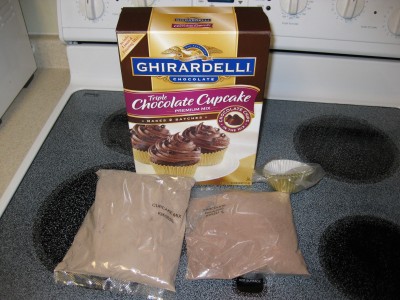 Recently I have been brave and tried some new scratch cupcake recipes but boxed mixes will always have a special place in my heart.   This box came with 2 powdered cake mixes,  2 powdered frosting mixes and liners to make 2 dozen cupcakes total.  Both mixes needed a few simple liquid ingredients.  Here's the finished cupcakes: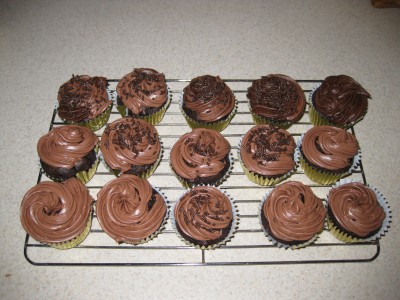 These cupcakes were so yummy!   Although the recipe stated that each bag made 12 cupcakes, I ended up with 15 and had to resort to some Betty Crocker frosting to finish them off (that's why you see 2 shades of brown).   We are also big frosting lovers in my house so if I had put on less I may have had enough for all 15. I added some chocolate sprinkles to a few so maybe these were actually quadruple chocolate cupcakes!    They tasted best the same night they were made because the chocolate chips in the cake were still melted.   I can't wait to make the other batch!