By
hungry runner
on November 2nd, 2009 . Filed under:
Cupcake Ideas
,
Halloween
.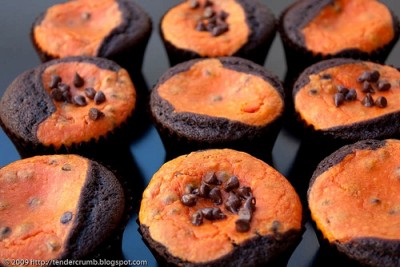 Since I started as contributing to ATC, I have had a lot of "why didn't I think of that" moments and this was another one.  Black Bottom Cupcakes have been a long time family favorite at our house and are possibly my favorite type of cupcake even though some would argue that they are not true cupcakes because they lack frosting.  Having said this you would think I would have come up with at least dying the cream cheese filling orange to make them festive for  Halloween.  That is exactly what Tender Crumb did, and she even took it one step further and tweaked the recipe to make pumpkin cream cheese filling.  I know I am late posting this as Halloween has passed but I just found it on tastespotting and figured  it's always a good idea for next year.  Plus pumpkin black bottom cupcakes could would be great for Thanksgiving or Christmas or any other day of the year!
I would like to add that black bottom cupcakes are a really easy cupcake to make.  The recipe is very simple and they always come out perfect.  However I never seem to have enough of the filling so buy some extra cream cheese, just to be safe.  And remember you don't have to dye them orange, you could pick any color or do tye dye!