By
CupcakeRetro
on October 10th, 2009 . Filed under:
Cupcake Ideas
.
I have mentioned previously that TJMaxx and Marshall's are great places to find cupcake items for a bargain. I visited them both this week and they proved me right again. This time I found two pieces of cupcake art for only 12.99 each, that are going to make great additions to my home.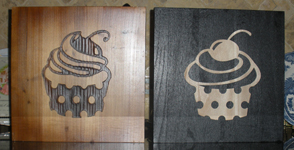 I was also able to find out that the cupcake dish sets I wrote about a few weeks ago are on clearance. Each item was discounted at least $1 off and some items were discounted up to $3 off! If you happen to come across the matching teapot please let me know, it is the only part of the set I have been unable to locate!