By
HeatherLynn
on October 8th, 2009 . Filed under:
Announcements
,
Contests
,
Free
.
One million cupcakes you say … Little Debbie is giving away lots of cupcakes and other prizes. If you go to the Little Debbie website you can print out a coupon for free cupcakes! Yep I said it, FREE CUPCAKES!
You can also join the Little Debbie Facebook Page and become a fan and get all the updates about Little Debbie Cupcakes!
Little debbie is also giving away other prizes. One of the other prizes they are giving away is this lovely ….. CAR!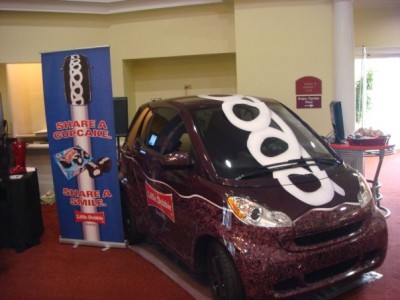 There are only 4 of these cars made.  It looks Yummy! I wonder if they have a cupcake scented car air freshener to go with it?
One of the other items they are giving away is a free Years Supply of Cupcakes! What more could one ask for?
I think I may have to for test drive some little debbie cupcakes today! :-)