By
HeatherLynn
on September 17th, 2009 . Filed under:
Cupcake Ideas
,
Decorating
,
Recipes
.
The cupcake baker is at it again …
I don't know what most people think about right before they go to sleep .. maybe how the days events went, maybe something that you have to to get done the next day  … What I think about right before  I fall asleep, CUPCAKES! Chocolate orange cupcakes was the last thing on my mind the other night.
So I decided to try em' out … this is how they turned out.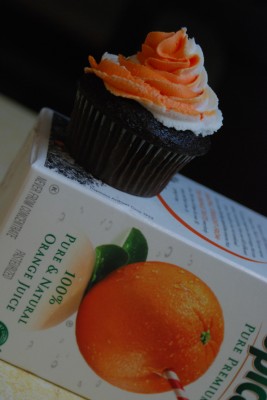 All that I did was use a box mix and used orange juice instead of water. And for the frosting instead of milk as the recipe calls for i used orange juice.
They weren't as dense as i had hoped and they needed a tad more orange flavor! But they are all around Yummy!!