By
GreenEyedLillies
on August 9th, 2009 . Filed under:
Bakeries
,
Contests
.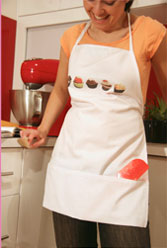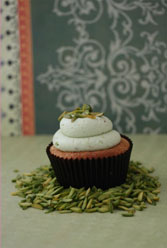 A new Sugadeaux cupcake needs a name! Email them with your brilliant idea of what to call their latest creation of vanilla/cardamom cake with pistachio frosting. The winner will not only receive the accolade of having named a Sugadeaux Cupcake, but will also win themselves a fab "5 in a row" apron. They are happy to post worldwide, so the competition is open to everyone!
To enter, simply email your submission to info@sugadeaux.com.au. We're seeking a name that represents the flavours of the cupcake and is creative without being overly obscure. Good luck!
Legal-ish stuff:
*competition closes on September 6th, at 6pm AEST.
*The apron will be sent to the winner via regular mail – sorry, we cant be responsible for any loss by the post office or damage during transit
* The winning name will be chosen by the folks at Sugadeaux based purely on the one we think rules the most!!
* You agree that by submitting your entry, you release all creative claims, intellectual property rights and completely allow Sugadeaux Cupcakes to use the name at our discretion. And we may even tweet about it ;)