By
GreenEyedLillies
on July 26th, 2009 . Filed under:
Tattoos
.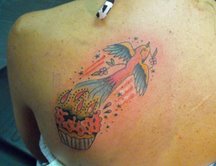 We received this photo and email from one of our favorite tattoo artists Conor Blue Eyes…
I've become quite the "go to" guy in my town for cupcake related art!
Thanks for all your support All Things Cupcake!
Here is a swallow flying out of a delicious cupcake!
Now that is a surprise filling!
Thanks for sharing your cupcake swallow tattoo with us! It's awesome!