By
GreenEyedLillies
on July 20th, 2009 . Filed under:
Accessories
,
Baby
,
Books
,
Celebrities
,
Giveaways
,
Party Items
,
Stationary
.
(The instructions for entering are located at the bottom of the post…)
Lyndsey of Kitchen doughdough is all about following her dreams. One of her current dreams is to be a guest on the Ellen show. By entering this contest you can help make that happen for her!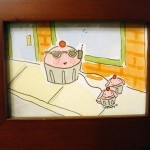 Cakespy Art!
The amazing Jessie Oleson of Cakespy is donating this piece of cuppie art for their giveaway!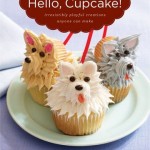 Hello, Cupcake! Book!
Karen Tack and Alan Richardson, big-time authors, were SO awesome to donate a copy to me for this giveaway!!! Visit their site here.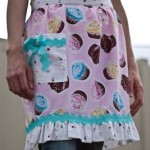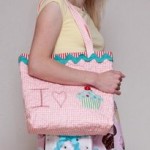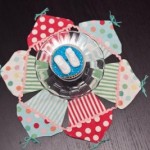 Pots and Pins Cupcake Apron, Stand, Doily, Tablecloth, and Tote!
The amazingly talented at Pots and Pins (a huge food and quilting blog!) made the most adorable cupcake things ever for this giveaway!  If you would like her to make some for you…just email nans17@hotmail.com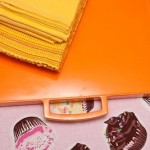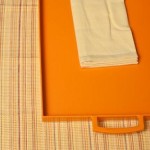 Modern Materials Tray, Placemats, and Napkins!
A favorite store is closing, and it is a heartbreaking reason why. Modern Materials is an AMAZING business started from scratch by Sheri and her husband. They had a beloved store in Salt Lake City, which closed due to Sheri's battle with cancer. About a month ago, they reopened a store in Sugarhouse called Habitat by Modern Materials, which is AWESOME!! Sheri donated these fun napkins and tablecloths for the giveaway! Lyndsey added a bright orange tray she bought there, which is great to display cupcakes.
Sadly, though, Sheri emailed Lyndsey to tell her that she has been diagnosed with MS and is still fighting tumors, and will be closing on a permanent basis.  wanted to share that they are having a sale, effective now in Salt Lake City…more details will be in a separate post. They are located at 1297 Miller Avenue. Lyndsey is hoping they will still be able to operate their online store, www.modernmaterialsdesign.com, which features "affordable modern accessories and lighting."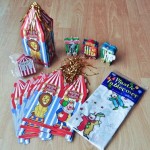 Kara's Party Ideas'
Circus Party Pack!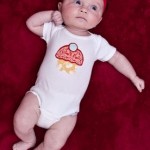 Kara's Cupcake Onesie!
Is this not the CUTEST thing you have EVER seen!
Kara
(different than the Kara above!) is giving away this cupcake onesie! Check out her
etsy store
!
She is offering FREE SHIPPING for the month of July!
It was so hard to pick which picture to post of our little model, Taya, until I saw this one; she is totally posing for our post! Way to make the cupcake onesie look great, Taya!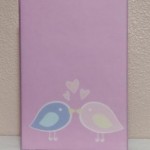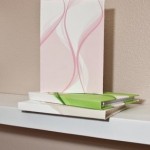 Deanworks Handmade Journal!
Deanworks
specializes in hand-woven, hand-bound journals like these! They are giving away one of their fab journals! Check out
www.deanworks.etsy.com
if you are interested in your own! By the way, the cute baby model Taya is the Deanworks baby!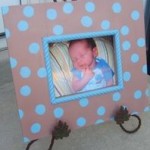 Sam's Handmade Frames!
Whoever wins this giveaway is one lucky duck!!
There are 3 ways to enter to win ALL of these fabulous prizes (make sure to leave a separate comment for each so you get each entry!):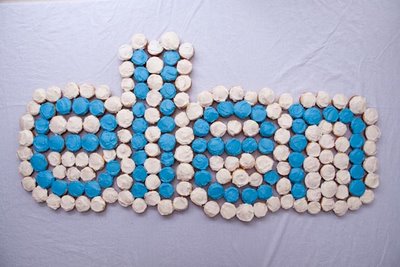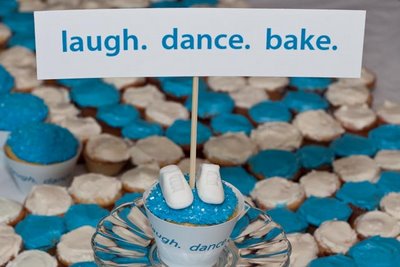 1. Click
here
to go to Ellen's Be a Part of The Show site. Just take a minute to fill out the form, then tell Ellen about the
Kitchen doughdough
site
! You can mention the cupcakes she made for her, the giveaway, which cupcakes she's made that you think she should feature on her show (click on my
cupcakes link
to see examples), whatever you want! Paste/paraphrase what you wrote as a comment on this post (follow the link), and you are entered!
2. Blog about her giveaway and post the link to your blog post as a comment on this post (follow the link)
or just type in your blog address.
3. Tweet about this giveaway and post the link to your tweet as a comment on this post (follow the link) or just give me your twitter name.
That's all there is to it! You can enter a total of 3 times. The deadline is WEDNESDAY, JULY 22nd at NOON pacific time. Winner will be chosen using random.org's True Random Number Generator widget. Good luck, everyone! And make sure to visit each of these amazing donors' links!
This giveaway is happening on Kitchen DoughDough…Not ATC. Please post all of your entries there. Thanks! ;)