By
harrisonca
on July 14th, 2009 . Filed under:
Announcements
,
Cupcakes for a cause
,
Events
,
Television
.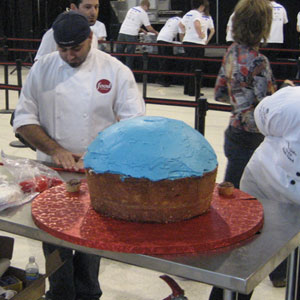 Last March, Food Network's Duff Goldman lives up to his Ace of Cakes title by baking the largest cupcake in history — which was entered in the Guinness Book of World Records.  The 61.4-pound creation is more than a foot tall and entirely edible. Reportedly 150 times the size of a regular cupcake, this record-breaker called for 16 pounds of butter, 10 pounds of sugar, and three ounces of food coloring.
Although it was widely reported that Duff broke the record, his record was disqualified in 2009 when it was revealed that his cupcake was baked in two parts!  Not only do I want to see the cupcake, I want to see the oven capable of handling a cupcake this size!
Recently, the londonist.com announced:
This Thursday, at the Covent Garden Real Food Market, the world's largest ever cupcake will make a nervous debut on the East Piazza. Nervous, because it will be a short-lived appearance: thousands of people will soon be wolfing it down. The baked behemoth will measure 2 metres by 1.25 metres, and it's expected that around 2,000 will enjoy a slice.
Now consider this.  Duff's cupcake is 150 times larger than a normal cupcake.  This londonist cupcake will be 10 times larger than Duff's cupcake!  No mention about whether it will officially take the Guiness Book of World Records crown though.