By
harrisonca
on June 23rd, 2009 . Filed under:
Bakeries
,
News
.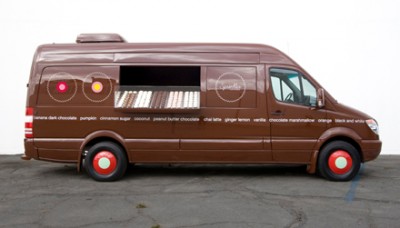 Last month, ATC observed the growing mobile cupcake trend on the east coast.  Just this monday, Sprinkles, the Beverly Hills-based chain, launched its cupcake-shop-on-wheels experiment to serve cupcake goodness to the Orange County.
"Yes, we want to take the Sprinklesmobile to the O.C.," said Nicole Schwartz, a rep for Sprinkles Cucpakes, which has a shop in Corona del Mar.
Schwartz said "stay tuned" for more details as "we haven't plotted out our
schedule yet."
The chain will "Tweet" its Los Angeles locations on its new mobile Twitter account: @sprinklesmobile.