By
GreenEyedLillies
on June 4th, 2009 . Filed under:
Tattoos
.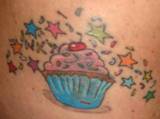 We received this photo and email from ATC Reader Cupcake…
Hi,

My name is Cupcake and I have the tattoo also. I went to a Tattoo Party here in Southern California. I think the guy who did it was from Northern California.  I gave him the concept and then he designed it.  My boyfriend's nickname is Inky because of all his "ink."  If you look real close at the sprinkles in the tattoo, you can see the name Inky in it. Love your site,
Cupcake

Thanks,

Cupcake   :>)
Thanks for sharing your tattoo with us Cupcake! It's so cute!