By
GreenEyedLillies
on June 3rd, 2009 . Filed under:
Photos
,
Wedding
.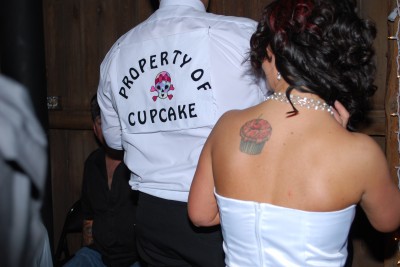 We received these photos and this email from ATC Reader Mikelle…
Hello, my name is Mikelle, but everyone calls me "cupcake". My amazing husband and i were recently married on may 9 2009. I surprised him with something special at our wedding as you can see!  We both have our own harleys and on our many ventures  we have seen a lot of women wear "property of " there mans name on the back of there leather jackets. I've always joked with him that he needed to get "property of  cupcake"  on his. So, I took care of that! He loved it! I wanted to share that with you all. I love your website!
That is so awesome Mikelle! You look gorgeous! Thank you for sharing it with us! :)