By
GreenEyedLillies
on May 27th, 2009 . Filed under:
Celebrities
,
News
,
Press
.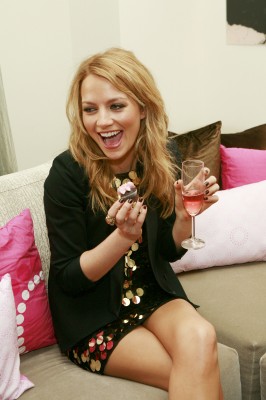 Actress Becki Newton of "Ugly Betty" enjoying some MARTINI & ROSSI Sparkling Rosé, and one of New York's best cupcakes.

MARTINI & ROSSI® INTRODUCES  SPARKLING ROSÉ
ENHANCING ITS PORTFOLIO OF ITALIAN  SPARKING WINES
Sip into Summer with Martini & Rossi's New, Fun and Flirty Rosé
MIAMI (May, 2009) – MARTINI & ROSSI, the leading name in Italian winemaking, proudly announces the addition of its sparkling MARTINI & ROSSI Rosé to its portfolio of fine wines.  Cultivated in the finest growing areas of the Piedmont and Veneto regions in Italy and made with handpicked Moscato Bianco, Malvasia and Brachetto grapes, this delicious, aromatic Sparkling Rosé is the perfect complement to the MARTINI & ROSSI sparkling wine collection. By expanding its portfolio and adding Rosé for the  first time, MARTINI & ROSSI completes its "sparkling trio," which currently boasts a naturally sweet Asti  (dosage: 90 grams/liter)  and an extra dry Prosecco (dosage: 15 grams/liter),  providing a unique style and taste for every occasion. Light and crisp, the MARTINI & ROSSI Sparkling Rosé (dosage: 49 grams/liter) is flirty and lively enough to get you away from the elements of winter and think of   spring.
Sparkling Rosé wines are taking the nation by storm, gaining in popularity* and showing a growing presence on restaurant wine lists and at home dinner parties nationwide. Available  just in time for spring and  summer when Rosé wines are most fashionable, MARTINI & ROSSI Sparkling Rosé is  perfect for a variety of occasions, from a romantic dinner at home to a celebratory party or a special girls night in, all enjoying  MARTINI & ROSSI Rosé in a responsible manner.
Soft pink in color and fully sparkling,  MARTINI &  ROSSI Sparkling Rosé is characterized by enticing  aromas that blend hints  of citrus, elderflower and soft peach with  delicate notes of wild Rosé. It pairs perfectly with an assortment of foods, especially lighter flavors of fruits, cheeses and fish. MARTINI & ROSSI Sparkling Rosé can be enjoyed in any mood or occasion, whether you are starting off your night, looking to enhance a meal or celebrating with friends.
One of the most iconic brands in the world, MARTINI & ROSSI is the leading name in Italian winemaking and a purveyor of the highest quality wines, with MARTINI & ROSSI Asti the number one-selling imported sparkling wine in the United States and MARTINI & ROSSI Vermouth, the number one-selling vermouth brand in United States, and the world. Since its founding in 1863, MARTINI & ROSSI has fostered a pioneering spirit to develop unique products that represent the very best in Italian quality and   style. The winemaker's dedication and passion for excellence is tasted in every one of its products and the new Sparkling Rosé is no exception.
MARTINI & ROSSI Sparkling Rosé will be available in a 750ml bottle and 187ml 4-packs that are perfect for sharing with friends and make a great addition to picnics or beach parties. MARTINI & ROSSI Sparkling Rosé can be found at fine wine retailers this spring and retails for a suggested price of $12.99.
# #  #

*According to Nielsen, volume of sparkling rosé grew   nearly 22% since last year.

ENJOY OUR GOOD TASTE WITH YOUR GOOD JUDGMENT ®  ©2009.  MARTINI & ROSSI AND THE MARTINI & ROSSI BALL AND BAR LOGO ARE REGISTERED TRADEMARKS.   IMPORTED BY MARTINI & ROSSI WINE COMPANY, MIAMI, FL. ITALIAN SPARKLING WINE.