By
GreenEyedLillies
on May 26th, 2009 . Filed under:
Books
,
Crafts
.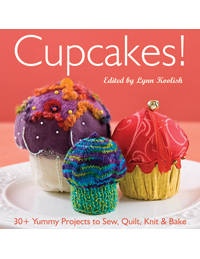 Cupcakes! 30+ Yummy Projects to Sew, Quilt, Knit & Bake By Lynn Koolish
Frosted Fun for Creative Crafters
• Make adorable cupcakes with fabric, yarn, felt, and paper, plus many mouth-watering cupcake recipes to taste while you create
• Fun for the whole family – enjoy these quick and easy projects with your children
• Sprinkle your creations with buttons, beads, sequins, embroidery threads, and paper embellishments
Help yourself to hours of creative play with these charming cupcakes to craft and bake. This book's tasty treats include small quilts, t-shirts, wall hangings, pillows, pincushions, recipe box, party invitations, baby bibs, hair accessories, and much more. The icing on the cake? Delicious cupcake recipes! (Warning: you'll want to try them all.)
Coming out soon!