By
GreenEyedLillies
on May 26th, 2009 . Filed under:
Baby
,
Clothing
,
Kids
.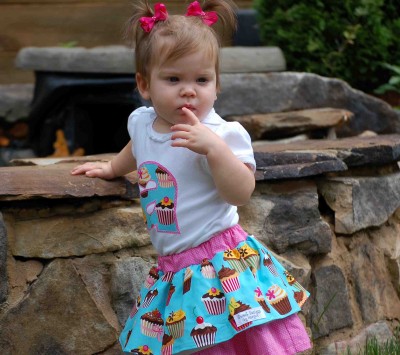 Cupcake Skirt and Appliqued Shirt $45.00
This is the perfect outfit for your little girl's birthday party! The skirt is two layers, the bottom layer is white lining with a hot pink with white pin dots ruffle, the top layer is a ruffled cupcake print, with a hot pink with white pin dots for the waist band. Skirt has an elastic Waist for easy on and off and to keep it on your little one so it's not falling down.
Shirt can be almost anything you want, colored or just white, a t-shirt or onesie. Onesie may not have ruffled trim as the one pictured. Applique is NOT done using an embroidery machine, it is sewed on. It is a two layered applique, with hot pink with white pin dots on the underneath layer and cupcakes on the outer layer. It can be any letter you choose, lowercase or uppercase.
This outfit can be made in any size from 12 months through size 6. If you have a specific length you want please specify when ordered.
*Since this is a custom made outfit please allow up to 2 weeks for outfit to be made and shipped.*
**When ordering please specify the following:
Size
Type and color of Shirt
Letter for Applique
Length of Skirt
Available at Sweet Designs By Maryum.