By
GreenEyedLillies
on May 13th, 2009 . Filed under:
Tattoos
.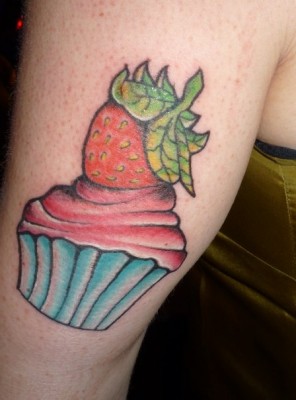 We received this photo and email from ATC Reader Kathy…
I too love your site cute n sweet :)  I wanted to show my cupcake tattoo off.  I got it for my 32nd birthday and since my 9 year old son's favorite things are strawberries & cupcakes it was a perfect fit for me!  Irik (my son) is a non verbal boy with autism he has a few words but mainly see life through pictures it was a beauty to see his eyes lite up and say "cupcake" Strawberry"!!!!!  Life is to sweet not to enjoy the little things.  Thanks Kathy Army

I forgot to put that I got the tattoo from Lolly Hot Rod Betties Tattoo in Salem, OR and I got it on the back on my upper left arm!!
Thank you Kathy for sharing your cupcake tattoo with us! It is beautiful!