By
GreenEyedLillies
on April 30th, 2009 . Filed under:
Bed, Bath, Body
,
Giveaways
.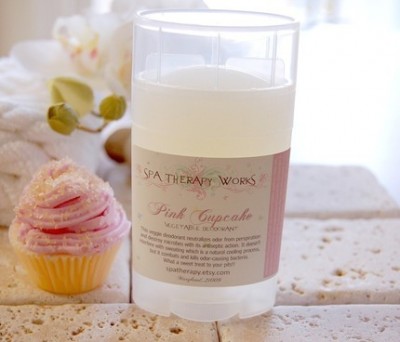 Pink Cupcake Deodorant Stick GIVEAWAY-5 WINNERS!
Delicious whipped, sugary pink buttercream frosting on top of a fresh-from-the-oven vanilla cupcake. It's girly, feminine and if you like vanilla, you'll LOVE this! This veggie deodorant works by neutralizing odor from perspiration and by destroying microbes with its antiseptic action. It doesn't interfere with sweating which is a natural cooling process, but it combats and kills odor-causing bacteria! What a sweet treat to your pits!!
This paraben-free, alcohol-free deodorant comes in a practical 2oz stick container. IT WORKS! Free of aluminum or bactericides. Perfect for the hot weather ahead and for "keepin' it cool" Cupcakes!
Leave a comment at The Cupcakes Club and 5 winners will be selected on 5/4/09!!! Be sure to CHECK BACK to see if you have won- you'll need to contact them to give them an address to send your prize!
Just in case you are not one of the lucky 5 that win the Pink Cupcake Vegan Deodorant Stick is made by Spa Therapy Works!