By
emily
on April 30th, 2009 . Filed under:
Accessories
,
Artwork
,
Gifts
.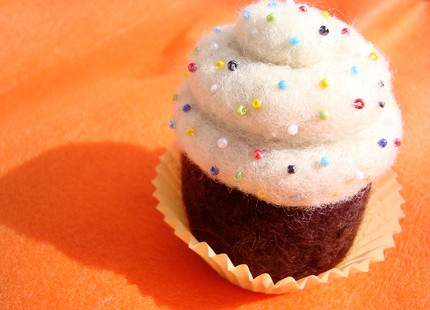 This cute little chocolate cupcake with vanilla frosting & sprinkles looks so delicious and would be a great treat for your bestest sweet…heart! WHAT IS IT?
Cupcakes are yummy, but this one won't get hard, or stale, or moldy. Use it as a pin cushion, table centerpiece, or paper weight. WHAT'S IT MADE OF?
It is made of 100% wool by a process called needle-felting. Needle-felting is a process of matting and compressing the wool into felt by stabbing a barbed needle into the fibers over and over again. It also has some small beads sew into the top, just like sprinkles, and is glued to a real cupcake paper. HOW BIG IS IT? t is just about the size of a real cupcake. It's about 3″ in diameter by 3 1/2″ tall.
Available from Felted Chicken's Etsy Page