By
GreenEyedLillies
on April 18th, 2009 . Filed under:
Bed, Bath, Body
,
Vegan
.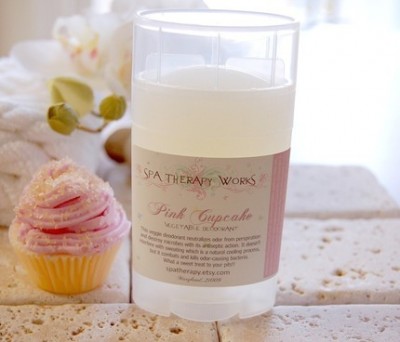 Pink Cupcake Vegan Deodorant Stick 2oz $6.50
Delicious whipped, sugary pink buttercream frosting on top of a fresh-from-the-oven vanilla cupcake. It's girly, feminine and if you like vanilla, you'll LOVE this!
This veggie deodorant works by neutralizing odor from perspiration and by destroying microbes with its antiseptic action. It doesn't interfere with sweating which is a natural cooling process, but it combats and kills odor-causing bacteria! What a sweet treat to your pits!!
This paraben-free, alcohol-free deodorant comes in a practical 2oz stick container. IT WORKS! Free of aluminum or bactericides.
☀ The original "Pink Cupcake" is only found here! ~ Often Imitated, Never Duplicated ☀
Available at Spa Therapy Works : Handmade Soap, Bath & Body Luxuries.