By
GreenEyedLillies
on April 16th, 2009 . Filed under:
Kitchen
,
Vegan
.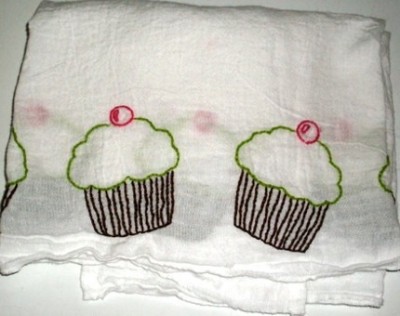 Chocolate Mint Cupcake Dishtowel $6.00
At "Sew Jennie" only materials that are vegan friendly are used. That means no fur, leather, wool, silk, shells, or any other material that comes from our fellow animals will ever be found in her designs. She believes in compassion for all living things and is proud to have purses, blythe doll clothes, etc. that reflect her beliefs. Cruelty Free is the way to be!
She also trys to send all orders in recycled packaging, so that there is less going into the landfills.
Chocolate coloured cupcakes with minty (or is it pistachio?) "icing" dance across the bottom of this cute four sack dishtowel. Hand embroidered by me! Perfect for cupcake lovers, green kitchen, retro, modern..heck who doesn't like cupcakes?
Available at Sew Jennie!