By
GreenEyedLillies
on April 14th, 2009 . Filed under:
Pets
,
Vegan
.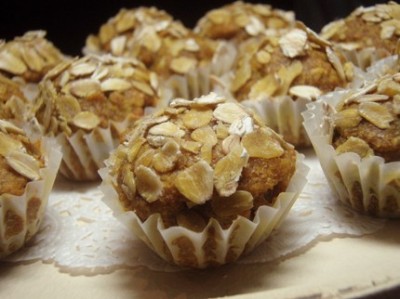 Shorty's Gourmet Treats – – Oatmeal Pumpkin Pupcakes Tiny Cupcake- – All Natural Organic Vegetarian Molasses Dog Treats $5.00
Our dogs only eat organic! Do yours?!
Your dogs will love biting into these little oatmeal pumpkin "pupcakes", and their owners will love giving them to them! :)
These oatmeal pumpkin pupcakes are all natural and made with human grade ORGANIC ingredients.
((If the mood should strike you, you could eat them as snacks, yourself!!))
These treats are made with a much more "cupcake-like" consistency! As well as topped with oatmeal flakes! :)
♥NO Salt
♥NO Corn
♥NO Sugar
♥NO Artificial Colors
♥NO Artificial Flavors
♥NO Byproducts
♥NO Preservatives
These treats come in a vacuum sealed 6 oz. containers which is exactly 12 (1 Dozen) pupcakes!
These treats have their "lip smacking" seal of approval of my 4 dogs! :)
♥*♥ All treats are MADE TO ORDER! ♥*♥
(As soon as an order is placed, it will be whipped up and sent out – – no stale treats here!)
♥But wait! There's more. Ever wonder what really goes on in Shorty's Kitchen? Click the link here to find out!
Available at Very Vintage™.