By
GreenEyedLillies
on March 27th, 2009 . Filed under:
Artwork
.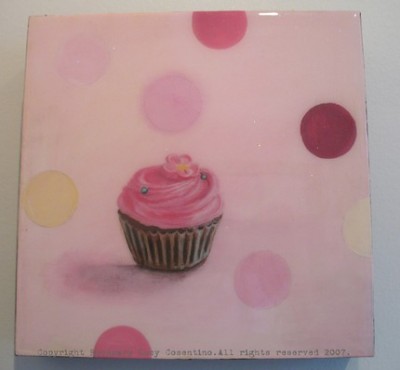 Resin Cake painting with glitter COSENTINO pink cupcake On Sale for $300.00, Market Value $850.00
This painting is being discounted and is on SALE. See market value below for original price.
ARTWORLD'S GALLERY TO ATTIC FINDS
otherwise known as CosentinoFineArt or Studio Cosentino…
aLTEReD aRT~ RESIN CAKE SERIES ~ FIGURATIVE OIL PAINTINGS ~ PAINTING-A-DAY SERIES & MORE!
BLOG: http://rosemarylucycosentino.blogspot.com/
WEBSITE: www.rosemary-cosentino.com
SEE THE GLIMMER & SHIMMER IN THESE ARTWORKS!
THE PICTURES DO NOT DO JUSTICE!
SIGNED: YES REVERSE
CERTIFICATE OF AUTHENTICITY: YES
CATEGORY: altered art, food & wine, retro vintage 40's pastry art
VARNISHED: YES
MATERIALS: mixed media, resin (disclosed upon purchase to buyer)
DATE: November 22, 2006
TITLE: " Pink swirl Cupcake "
DIMENSIONS: 9″ x 9″
Framed: No- may not be necessary
MARKET VALUE: $850.00 USD is on SALE $300!
Care Instructions: Do not expose to direct sunlight. So not expose to extreme temperatures or humidity. Keep away from bright lighting. Dust carefully very slight humid smooth lint free cloth.
What are they???
They are retro vintage inspired artworks the Artist has created for her love and passion of eye-candyTM! Made of luscious paints, decoupage, high shine resin and glitter! All things nice! They are extremely versatile artworks that can withstand high temperature fluctuations perfect for Restaurants, Coffee shops, Kitchens and hey why not…bathrooms! The thick crystal finish is like no other! this technique is highly guarded by the artist. These artworks are like gems. They are literaly one-of-kind and precious!
Who are they for???
Perfect gifts for those particular people in your life. Or how about that difficult teen? Yep that's right rip those rapper posters off and hang a real piece of art and their lives will take on a new direction!
How about that sweet gal of yours? Anniversary or special occasion to say I LOVE YOU, just won't be the same when you surprise her with a genuine piece of artwork! You or she will not be disappointed.
Inspiration
The 40's with Audrey Hepburn, French chic high fashion, art and good Coffee Shops with fluffy cakes of 7 layers and colorful cupcakes! Julia Childs ring a bell? YUM! Art that is bigger for the human eye, irrisistable "gotta have it" artworks! Her mom's vintage cookbooks also had to be blamed! The fact she almost became a chef and still secretly pursues it inspired her daily. Art and cooking…well figure it out!
They have been exhibited and loved by many. They have been copied & mimicked but none are like the original CAKE SeriesTM!
For more info go to:
http://rosemarylucycosentino.blogspot.com/
Available at Cosentino Fine Art – Eye Candy Art.