By
GreenEyedLillies
on February 13th, 2009 . Filed under:
Clothing
.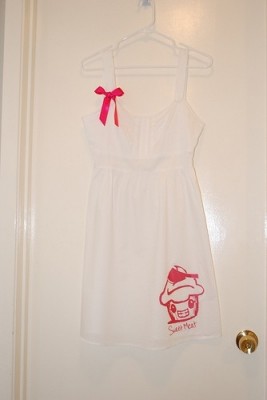 SweetMeat Cupcake Dress $22.00
*White 100% cotton dress
*SweetMeat cupcake with meat cleaver in frosting screenprint in bright pink by me
*Bright pink ribbon tied on
*Size Medium
*Brand "Flowers" on tag
*Item is new
This would be the perfect Valentine for someone special. It can be worn with jeans, a slip underneath, or by itself around the house!
Available at SweetMeat Piggy.