By
GreenEyedLillies
on February 13th, 2009 . Filed under:
Baby
,
Home Decor
.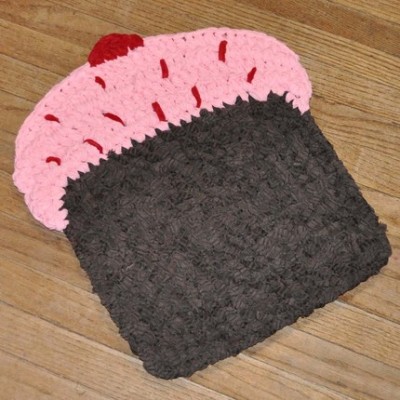 Pink Frosting and Chocolate Cake Crochet Cupcake Rug $40.00
Yummy! A cupcake rug to sweeten up any room in your house!
The seller crocheted this cupcake-shaped rug with yarn she hand-cut from salvaged fabric. The chocolate bottom was crocheted from a brown corduroy fabric remnant. The frosting was crocheted from a pink polyester double-knit fabric remnant. The cherry and sprinkles were crocheted from a red velour bathrobe. All these fabrics were collected from thrift stores, washed, and cut into strips that she used as yarn to crochet this rug. Using fabric yarn creates a rug that is durable and thick yet soft.
This rug measures 19.5 inches (49.5 cm) x 17 inches (43.2 cm) at its widest points. It is machine washable and dryable. Perfect for the bathroom, kitchen, bedroom, play room, dorm room, nursery, office, any room at all!
Want a rug in a different color or size? Contact the seller for one custom made to match your decor.
Available from Emily Kircher Recycling Artist.