By
Lyns
on February 9th, 2009 . Filed under:
Bakeries
,
Events
,
Free
.
As quoted from the Retro Bakery Blog
"Tuesday, February 10, is Retro Bakery's First Birthday."

What are we going to do??? PARTY, of course! We're declaring it "FREE CUPCAKE DAY," and from 8 a.m. to 8 p.m. all people who come in will be able to get ONE free cupcake of their choice!! There may even be balloons….We're all about a big budget, remember?
So, save the date! It'll be a buttercream BASH!
I better start plannin'…Laytah.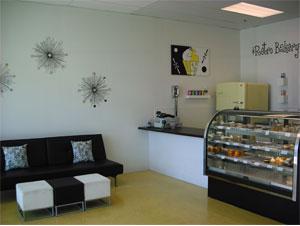 Looks quiet and unassuming now don't you think? Being the day before this buttercream bash I would be armed with a camp overnight bag and a fork. An opportunity to celebrate with these wonderful cupcakery owners, a free cupcake and the promise of a buttercream bash is far too tempting for me. Retro Bakery is located in the Centennial Hills area of Las Vegas at: 7785 N. Durango Dr. #130, LV, NV 89131.
It is their anniversary so why not bring to them some of your own buttercream sensations to help celebrate their year and partay! Here are some offerings I know the Retro to offer up
Mint Chocolate Chip
Peanut Butter Cup
Sprinkled Donut
Apple Cider
Chocolate Fountain
Cinnamon Toast
Chocolate Covered Banana
Hawaii Sky
Hawaii Night Sky
Vanilla Loves Vanilla
Pink Lemonade
Cookies and Cream
Creamsicle
Chocolate Loves Vanilla
Chocolate Loves Chocolate
If you attend this extravaganza of cupcakery and get some photos, please send! Happy Anniversay Retro and Cheers to another Bakecessful year, you deserve it!!