By
GreenEyedLillies
on February 9th, 2009 . Filed under:
Tattoos
.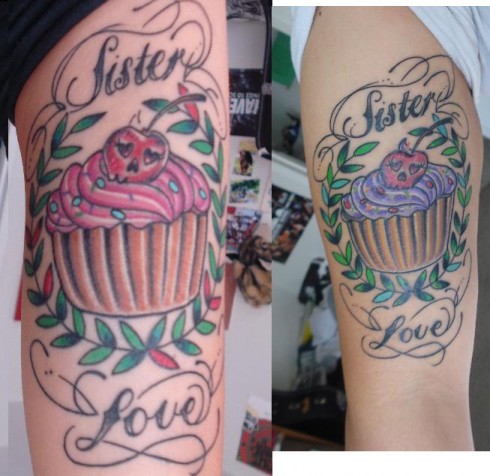 We received this email and photos from ATC Reader Janice…
This tattoo is in dedication of our love for cupcakes, respect for one another and our commitment to being sisters always and  forever. I am a baker who specializes in cupcakes and my sister eats them. We wanted a 'sister tattoo' for the longest, we didn't want to get a pick and stick tattoo or something not original, we wanted something that represents the both of us. We share a lot of the same interest from Cupcakes to Punk Rock and of course our love for one another. Every time I am in the kitchen baking and destroying she is waiting patiently on the table.

Cupcakes&Love
-Janice.

These tattoos were done by Monet of Bound By Tradition in Fresno, California.
Thank you for sharing your tattoo and your sister's tattoo with us! They are gorgeous!