By
cupcake girl
on February 9th, 2009 . Filed under:
News
,
Other
.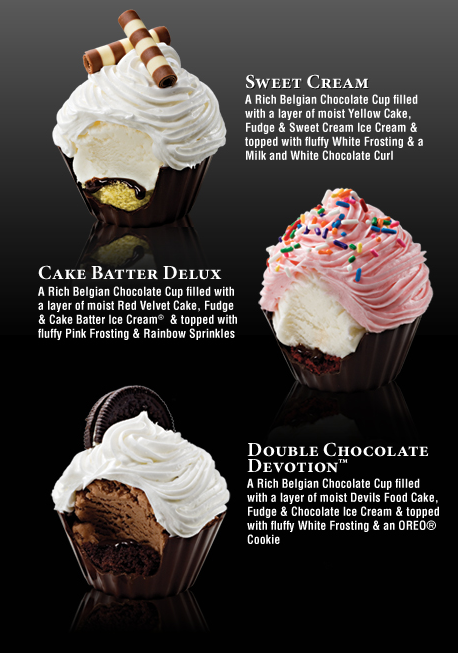 Cold Stone Creamery is adding a twist to the latest popular dessert, creating premium ice cream cupcakes, sold for a limited time nationwide for just $9.99 a pack. Known as an ice cream innovator, Cold Stone is breaking into another category for sweet indulgences with three signature cupcake Creations. Offered from Feb. 4 – March 31, 2009, these cupcakes are the sweetest gift for any sweetheart during Valentine's Day.
In recent years the cupcake trend has been sweeping the country with more and more cupcake specialty shops sprouting in every city. This trend, inspired by popular television, such as Sex and the City, has made its way out of children's parties and into the adult world as a delectable treat for most any occasion, from birthdays to promotions to celebrating a Friday.
"These ice cream cupcakes are a perfect new addition to Cold Stone's offerings of indulgent desserts," said Suzanne Schutz, vice president of Cold Stone marketing. "We've enhanced our menu of deliciously affordable luxuries, while creating a new setting for cupcake lovers to experience this sweet trend."
Made in a rich Belgian chocolate shell, the Cold Stone ice cream cupcakes are layered with moist cake, fudge and premium ice cream. Topped with fluffy frosting and an edible decoration, these cupcakes are true to the Cold Stone brand as an innovative and quality indulgence. The three Cold Stone signature cupcakes are Cake Batter Delux, Sweet Cream and Double Chocolate Devotion™. Descriptions of these three cupcakes are below.
* Cake Batter Delux: Moist red velvet cake layered with fudge [and] Cake Batter ice cream in a rich Belgian chocolate shell and topped with pink frosting and rainbow sprinkles.
* Sweet Cream: Moist yellow cake layered with fudge and Sweet Cream ice cream in a rich Belgian chocolate shell, finished with Bettercreme frosting and Duo Mistrals topping.
* Double Chocolate Devotion: Moist Devil's Food cake layered with fudge and chocolate ice cream in a rich Belgian chocolate shell and topped with Bettercreme frosting and an OREO® cookie.
For a limited time only, these cupcakes can be purchased at any Cold Stone Creamery location nationwide at $9.99 for a pack of a half dozen cupcakes. The cupcakes can come in a single flavor or a variety pack, and since it is Cold Stone, guests also have the ability to create their own ice cream cupcake at select locations.
Another sweet treat in Cold Stone stores, just in time for Valentine's Day, is the Sweet Strawberry Romance ice cream cake. Sweet Strawberry Romance puts a new twist on the traditional Cold Stone Signature Cake. Instead of just one ice cream flavor, Cold Stone is swirling Sweet Cream and Strawberry ice cream together in addition to adding strawberry mix-ins. This ice cream creation is then layered between sheets of moist yellow cake and finished with pink frosting, crumbled graham cracker pie crust and chocolate heart toppers. Sweet Strawberry Romance is available from February 4–14, 2009, at Cold Stone Creamery locations throughout the country.
Article from Business Wire. Picture from Coldstone's website.