By
GreenEyedLillies
on January 25th, 2009 . Filed under:
Shoes
.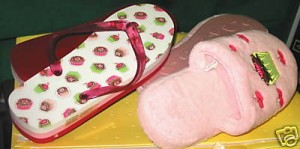 Cupcake slippers/flipflops combo $12.59
These shoes are so cute and comfy! The are size 9-10 (large) in womens. They have cupcakes and cherries on them and are mostly pink. Platform on the flipflops is approximately 1 1/4″ . Slippers are cushy and soft! Perfect gift for yourself or someone special. These shoes are brand new (no box)!
Available on ebay!
Thank you Rebecca for this awesome cupcake find!