By
GreenEyedLillies
on January 19th, 2009 . Filed under:
Bakeries
,
Gifts
,
Holidays
,
Valentines Day
.
MallowDrama's offerings for Valentine's Day
Inspired by The Pajama Game, MallowDrama has created four distinctive designs for Valentine's Day, available in two delicious flavors: Red Velvet iced with Vanilla Buttercream; and Spicy Chocolate (inspired by traditional mole [MOH-lay] recipes) topped with Cinnamon Ganache.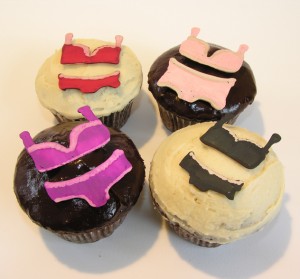 Sleep Tight
With the Sleep Tight collection, MallowDrama's cupcakes take "edible underwear" in a new direction.  These treats are sexy and sweet.  Each cupcake in this collection is topped with white chocolate lingerie that has been hand-piped and hand-painted by the chefs of MallowDrama.  Colors and designs vary (Victoria's Secret watch out!).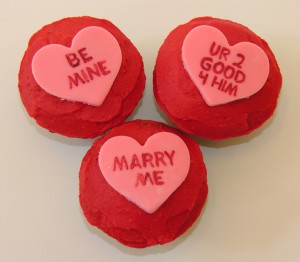 Small Talk
If you're just looking to break the ice with your crush, these cupcakes are a real conversation starter.  Each cupcake in the Small Talk collection is decorated with a "conversation heart" – made of fondant and hand-lettered by MallowDrama's chefs – that will help you express yourself to your Valentine.  They'll get the message with cupcakes that say:
 
HI QT
UR SWEET
CALL ME
BE MINE
 
I Love You More
For the romantic who's ready to pop the big question, he or she can serve up a sugary enticement.  Propose with the I Love You More collection.  Sentiments include:
 
MARRY ME
4EVER YOURS
SAY YES
I DO
 
Not at All in Love
Some years, we just don't feel like celebrating Valentine's Day.  Whether it's you that's feeling a little unlucky in love, or a friend who is going through a dry spell, the Not at All in Love collection is sure to lift spirits.  Enjoy these with your friends – you can even share one with your ex if you'd like:
 
I'M OVER U
UR 2 GOOD FOR HIM
U KNOW WHAT U DID
2 HOT 2 HANDLE
 
These special Valentine's Day offerings are available from MallowDrama, February 8-15, 2009.  Each collection includes 2 Red Velvet cupcakes and 2 Spicy Chocolate cupcakes and is available for $14.  Order a dozen cupcakes for just $33!  Call 703-758-1474 or e-mail info@mallowdrama.com to place your order.  Delivery is available for larger orders (subject to delivery fee).  Single cupcakes can be purchased for $3.50 each at Dinner Zen, February 12-14, 2009; Dinner Zen is located at 11160 South Lake Drive in the South Lakes Village Center in Reston, Virginia.  Vegan or gluten-free cupcakes (Spicy Chocolate only; Red Velvet is not available as vegan or gluten-free) are available for Valentine's Day by special order.
 
MallowDrama Inc. offers desserts with a dramatic flair from the pastry team of Mary & David Supley Foxworth.  We specialize in made-to-order cakes, cupcakes, and chocolate truffles, and take pride in creating desserts that taste every bit as good as they look.  Based in Reston, Virginia, MallowDrama serves the metropolitan DC area and beyond.  To learn more, please visit us at www.mallowdrama.com or call 703-758-1474.